Domeinen Roerende Zaken
Domeinen Roerende Zaken (State Property Service Movable Goods), DRZ for short, is a department of the Ministry of Finance. The State Secretary of the Ministry of Finance is politically responsible for DRZ.
DRZ is the statutory sequestrator of seized property and has been designated by law to process any redundant property owned by the Central Public Administration. 
General Gulfstream IV information
Aircraft History
This Gulfstream IV (registration number: V11) has been in use since 1996 by the Royal Netherlands Air Force since April 1st, 1996. This aircraft has been used for transporting VIP's (military and civilian). In addition, the aircraft is used for inspections, coordination and liaison flights. This aircraft will be in service until the end of June 2023. the Royal Netherlands Air Force recently purchased a Gulfstream G650ER. As of July 2023 the Gulfstream G650ER will be operational. The Gulfstream G650ER will replace the Gulfstream IV. The Gulfstream IV will be sold/auctioned by DRZ as government surplus.
Auction timeline overview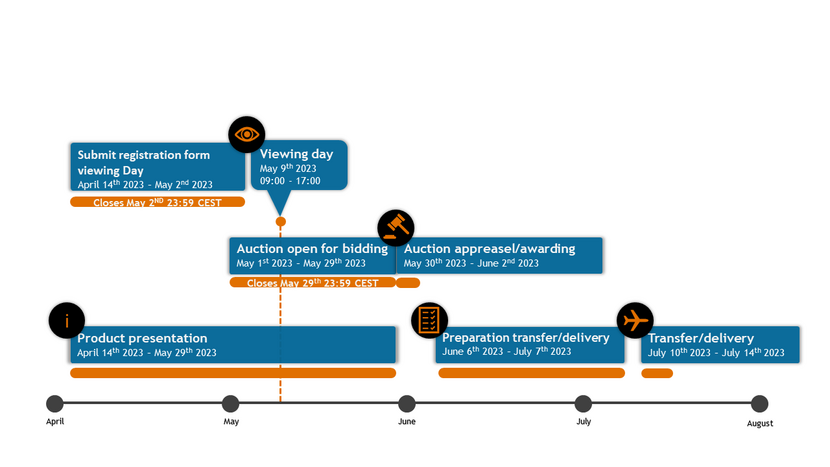 Location
Eindhoven Air Base
Flight Forum 1550
5657 EZ Eindhoven
Eindhoven Air Base is the home base of the Air Mobility Command of the Royal Netherlands Air Force. Their most important task is the provision of military air transport for worldwide military operations, humanitarian missions and special assignments. In addition, air force personnel are tasked with airport duties at Eindhoven Airport day and night.
Additional information about Eindhoven air base
Contact information
Do you have any questions about the auction or this Gulfstream IV? Please get in contact with us by sending an email to: Gulfstream@domeinenrz.nl
Domeinen Roerende Zaken (State Property Service Movable Goods)
Ministerie van Financiën (Ministry of Finance)
John F. Kennedylaan 8 | 7314 PS | Apeldoorn